Go to Media Testimonials here>>
Send us your testimonial at sales@thebikebarn.net. We post unique and interesting stories and images on these pages:

The Bike Barn did not move a centimeter or fly open or rip apart!
I added a "refinement" by attaching brass hooks by way of nylon zip ties to the rear of the frame which in turn hook onto steel rings fastened to the asphalt my concrete screws. We have had winds strong enough to blow down four trees, each 3' in diameter, but the Bike Barn did not move a centimeter or fly open or rip apart! A truly excellent investment. The Bike Barn motorcycle cover used to be the home for my Burgman 400 and is now the home of my Boulevard C50.

Konrad Poth
LaGrange, KY
December 2006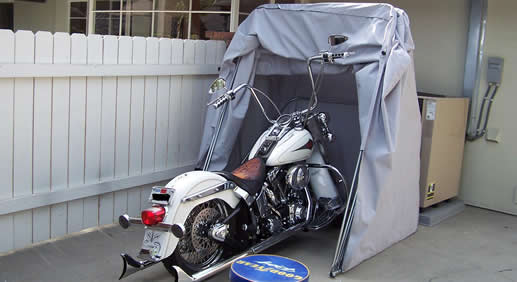 Nothing covered my entire bike...
Ordered my Bike Barn motorcycle storage on a Sunday and received it the following Friday. We bought a new car and I needed a suitable solution for my cycle that offered full protection. I tried the largest covers I could find, but none covered my entire bike with the 16in ape hangers not to mention the windshield and bags. I tried in vain to fit it under a large normal cover with both the bags and windshield off but sill could not get my spoke rims more than half way under, and more often than not forgot to run back outside after allowing the bike to cool to wrestle with the cover for a half an hour. That said I was thrilled when I came across the Bike Barn storage online. Now I am the first to admit that I am all thumbs when it comes to assembly and will always pay to opt for pre assembly or on site set up when available but Bike Barn motorcycle storage offered neither and the testimonials do address ease of assembly. Long story short I got the Cruiser (Tourer) model Bike Barn in place and put together correctly in about 2 hours. The Bike Barn motorcycle cover looks great and offers plenty of room to store my bike from top to bottom, bags, windshield and all. Without a doubt I am going to buy the flooring and heater as well. I have attached some photos so you can check out the finished product.

Darin J.
Southern California
November 2006

I did it myself...
Just want to let you guys know my Tourer motorcycle cover arrived a few weeks ago. It shipped in 2 days like you promised and arrived quickly. I was in such a hurry to get it together I did it myself without waiting for help. I am proof positive that a fat out of shape middle age man can do it by himself!!! It took exactly 2 hours 10 minutes, 4 beers and a Hershey with almonds candy bar.... but I did it. Also bear in mind there were lots of breaks in those 2+ hours.

So far it has survived 50 MPH winds here on the Coast in New England Love this product.Thanks for Everything!
Brian Lloyd
New England
October 2006

Hi,
Just to let you know that I'm highly pleased with the Bike Barn (STANDARD) shelter that I purchased recently. It's better than I expected and is installed on my patio, so I haven' bothered to put any sort of flooring down. We've had a couple of thunderstorms this month, but no water got into the Bike Barn, nor is there any condensation. The Bike Barn storage is brilliant!
Cheers,
Mike Friend,
Swindon,
Wilts, UK
September 2006


Dear Bike Barn people,
Greetings from the home of the world's greatest road races! I ordered my Bike Barn motorcycle cover last Friday (8 days ago), and it was delivered Thursday (a day earlier than the UPS tracking promised). After a week of good weather, today of course it was raining stair rods and blowing a gale - the old cover had blown clean off the bike. I was able to assemble the frame in my living room, and then lift it outside to put the tent on. The whole exercise was accomplished in under two hours despite the gusting wind, and it only took that long because I had to redo a couple of bolts because I'm an idiot!

This is easily the most cost-effective bike shelter I have seen, and if it will work in the wind and rain here (I live on top of a very exposed hill near the sea) it will work anywhere. I will be recommending the Bike Barn to everyone I know who keeps their bike outside. Both your service and your product are outstanding - many thanks.

I should add that we had 80 mph winds here last night, and the Bike Barn tent didn't even move!
Bill Lawrence
Isle of Man
September 2006
---

Keep up the great work!
Just thought I'd let you know that I posted an endorsement for you on the Harley website. As you know I purchased my Bike Barn motorcycle cover last year and you've been using my photo on your testimonial section. One year later, the bike barn is performing as new. All while sitting quietly several hundred feet from the ocean. Chrome and paint look like they did the day I brought it home. If you go to the address in the subject line and hit on Product Reviews you will see my endorsement. Hope you get some business from it. Keep up the great work and thanks for a quality product.
Dana Cosgrove
Old Saybrook, CT
August 2006
---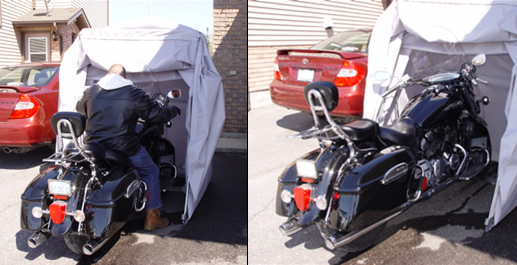 WOW Incredible!


Wow what an incredible storage unit. It took me and my wife only 1 hour to put it together completely. All parts were included, nothing was missing and your instructions were 100% accurate. I built the unit on Wednesday night and the next day I picked up my new 2006 Yamaha Royal Star Tour Deluxe and drove it right into my new bike barn cover. Awesome, simply an awesome system. I will tell my biker friends about the Bike Barn cover.
Paul Meyers
North Bay, Ontario
April 2006
---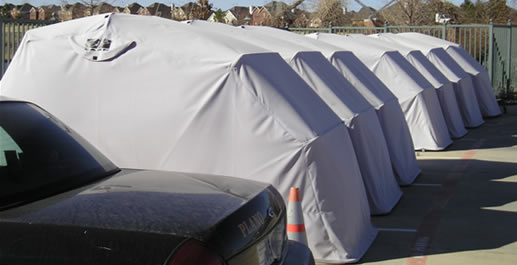 Full coverage!


A police department in Texas wanted full coverage for their fleet of motorcycle cruisers, so they chose the Bike Barn motorcycle covers for all of them. We're just happy to help protect those whose job it is to protect us!
Somewhere in Texas, USA
January 2006
---