ATV Cover - Can AM 500 Max

Have had a Standard motorcycle cover for about 5 years and used it to protect my Road King in Pennsylvania, California and now in Nebraska. Just purchased a Can Am 500 MAX (which is a good sized ATV, made for 2 up riding) so I ordered a new Touring motorcycle cover. As you can see, it fits with some room to spare (future snow plow attachment will take care of that!) Works best if I pull in the ATV nose first in 2WD so I don't pull the base plate forward but once I anchor it down either direction will do.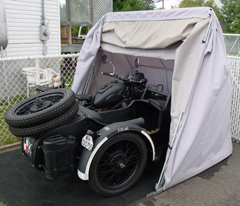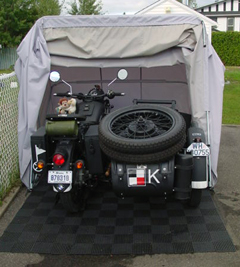 Bike Barn Trike Model covers antique military sidecar

Here is some picture of my Bike Barn with a rather special motorcycle! Antique military motorcycle sidecar, circa 1941. As you can see, this Trike Barn motorcycle storage does the job, and so far, resisted a few severe thunderstorms and good down pours—all this keeping the bike completely dry!! Took me a little less than 2 hours to set up, the floor was a bit longer!!

This is the sidecars permanent storage too, will report back after it's first winter, but by the look of the construction, I think it should do very well and without problems.
Jc Laurier
Mirabel PQ
Canada
September 2007