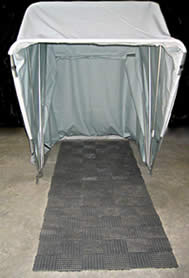 The floor has been a hot topic for non-contact motorcycle covers. The Bike Barn motorcycle cover researchers looked into the floor idea 6 years ago and found that the floor did not deliver as was intended.

First off sealing the bottom of the cover eliminated convection air flow that is the trademark for these vented drive in motorcycle covers. Hot moist air was not allowed to rise since no cool make up air was coming in to replace it. The moisture did not vent and condensation resulted.

Secondly, the area under the Bike Barn motorcycle cover is bone dry – the ground did not get wet since the tent kept the water off. So a floor did not do much.
Third, plastic tended to rot from laying on the ground all the time especially with no air circulation underneath it.
We wanted to avoid all these problems and we have – with our multi-lock system. This ventilated floor will keep things up off the ground but still allow air circulation so that moisture can escape. Another good idea from your friends at the Bike Barn.