Bike Barn - Motorcycle Covers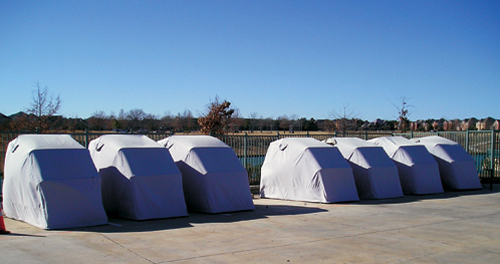 Motorcycle Covers are unique tents that protect your ride. They are made of commercial grade woven polyester fabric with long life UV testing. They are water repellent on outside and have polyurethane coating on inside for waterproofing. Motorcycle Covers are a great way of adding years of life to your bikes paint. After you have washed, waxed, and polished your bike to make it look its best, don't leave it parked out in the open. Protect your investment with one of our motorcycle covers.

The Bike Barn is enclosed motorcycle covers that are manufactured in our state of the art fabrication center by a team of dedicated professionals. Bike Barn motorcycle covers will not rot in sun and will only have minimal fading after two years. Our motorcycle storage covers can shelter most any bike including Harley Davidson, Honda, BMW, Honda, Suzuki, Yamaha, Kawasaki, KTM, Ducatti and more.
The trike market needed a solution for storage and we've come up with wider model motorcycle covers that handle trike conversions up to 62 inches wide. Don't worry about hot exhaust pipes melting fabric covers, there's no contact of fabric to pipes. Many standard motorcycle covers need to be replaced every year at a cost of one hundred dollars each. Winter storage inside a self storage compartment can run up to a hundred dollars per month. The Bike Barn pays for itself in one winter.