Bike Barn - Motorcycle Seat Cover
A motorcycle seat cover does what it is meant to do, keep your bottom dry. But what about the rest of the bike? Shouldn't that be protected also? With a Bike Barn motorcycle seat cover, dirt and dust are not ground into your paint from the wind rippling the fabric. They are made of commercial grade woven polyester fabric with long life UV testing. You also don't need to worry about hot exhaust pipes melting fabric covers because there's no contact of fabric to pipes. A motorcycle seat cover from Bike Barn will protect your entire bike, in any type of weather.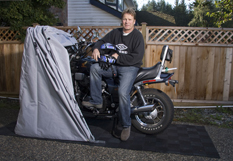 Our motorcycle storage covers can shelter most any bike including Harley Davidson, Honda, BMW, Honda, Suzuki, Yamaha, Kawasaki, KTM, Ducatti and more.