Dear Bike Barn people,

Greetings from the home of the world's greatest road races! I ordered my Bike Barn motorcycle cover last Friday (8 days ago), and it was delivered Thursday (a day earlier than the UPS tracking promised). After a week of good weather, today of course it was raining stair rods and blowing a gale - the old cover had blown clean off the bike. I was able to assemble the frame in my living room, and then lift it outside to put the tent on. The whole exercise was accomplished in under two hours despite the gusting wind, and it only took that long because I had to redo a couple of bolts because I'm an idiot!

This is easily the most cost-effective bike shelter I have seen, and if it will work in the wind and rain here (I live on top of a very exposed hill near the sea) it will work anywhere. I will be recommending the Bike Barn to everyone I know who keeps their bike outside. Both your service and your product are outstanding - many thanks.

I should add that we had 80 mph winds here last night, and the Bike Barn tent didn't even move!
Bill Lawrence
Isle of Man
September 2006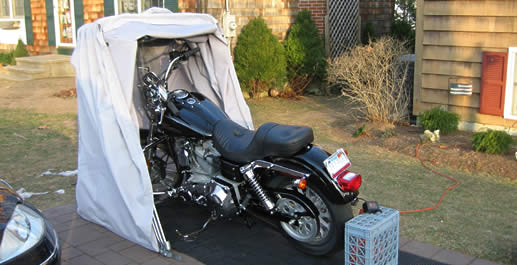 I'm thrilled!

Just wanted to let you know that I'm thrilled with the quality of your product. It was easy to assemble in about 90 minutes. I'm about 400 feet off the Atlantic Ocean and was concerned about the Northeast winds that howl through here. On the day after installation the winds reached 40 mph gusts and the Bike Barn stayed in place held only by the Dyna's front wheel on the anchor plate. Thanks for a great product and Happy Holidays.
D. Cosgrove
Old Saybrook, Connecticut, USA
December 2005
WOW!

I just got my Touring Model Bike Barn cover last night (incidentally, the same day I was hired for a new job AND I proposed to my girlfriend. Then I come home and find a present waiting!). We're expecting our first snow showers of the season this weekend, so I decided that today (Friday) was do or die. I got started around 4:00 and finished around 5:30. A little longer than I thought it would take, but I wasted a good 20 minutes looking for parts that I thought had been left out of the shipment. Then I realized I was an idiot and they were right in front of me. So, after getting over my own stupidity, I was able to complete assembly relatively easily.
It definitely helps to have a second set of hands to help steady the steel tubes when you're attaching them. I immediately put my FatBoy in when I finished. It fits perfectly, even with the saddlebags and windshield. I'm thrilled!!
I used to have a standard bike cover that secured with bungee cords. We had a blustery day 2 weeks ago, and a 68MPH gust caught the cover like a parachute and tipped my bike over! Luckily, no serious damage. But, that is what lead me to this wonderful product. With the Bike Barn there's no wind problems here! Less $$$ than 4 months of winter storage, plus I can use it year-round. This is the best investment I've made for my pride and joy. BUY ONE NOW!!
Scott
Baltimore, MD, USA
December 2004